Philippine Flow Fest [27/03/15] (Zambales - Philippines)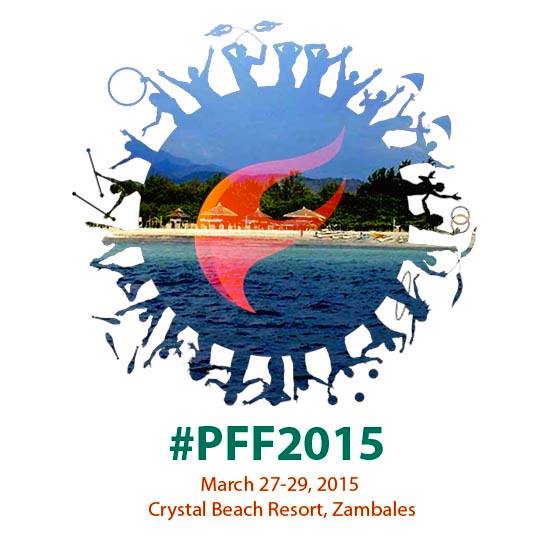 Greetings! The time has come again to announce our annual pride and joy. The country's 3rd...

Philippine Flow Fest 2015: Celebrating the Fire and Movement Arts!

Co-presented by Planet Zips : Poi Philippines, B - SIDE Productions, sponsored by Zippo Philippines and hosted by Crystal Beach Resort, Zambales. PFF 2015 is a trailblazing and nationally celebrated event, one which is making a name for itself in the regional festival circuit with more international guests attending each year. In the past we've had world renowned artists like Thomas Johansson (SWEDEN), Yuta Poi (JAPAN), "Shinmasta" Chung Shinyeob (KOREA) and Marvin Ong (USA/MALAYSIA) grace our shores. For more details, please watch last year's video here:http://on.fb.me/1DAMR5W and PFF 2013's here: http://bit.ly/1jJwZ7A

The Philippine Flow Fest (PFF) is a one-of-a-kind festival that brings together fire and movement art professionals and enthusiasts from across the country and the world, with the goal of showcasing these wonderful art forms through workshops, performances, a fire night and sunset jams - alongside bands, DJs, drum circles and an after party!

With the popularity of these art forms, and after the success of last year's 2nd PFF 2014, the time is ripe to mount an even stronger 3rd year effort, with even more ambitious goals. This year, we've pushed for the next level by moving the Philippine Flow Fest 2015 out-of-town, to Crystal Beach Resort in Zambales - a perfect flow arts beach playground!

PFF 2015 also aims to create a space for the multi-sensory arts, where guests' visual, tactile and aural senses are peaked, teased and tantalized. We will invite other like-minded performers, musicians, visual and movement artists to jam, present their art forms and collaborate.




--------
* HIGHLIGHTS

- Welcoming pre-event sunset street jam & bbq
- World renowned international fire/flow artists
- Best of local Filipino fire/flow talent
- Flow art workshops - Poi, hoop, contact juggling, levistick, staff and Buugeng/S-staff. Beginners-advanced levels
- Exclusive outdoor film screening of Nicky evers' Flow Arts • A Film
- Yoga and slackline activities
- Games and obstacle course
- Inspirational talks & sharing sessions
- Fire night, sunset drum and fire/flow art jams
- Open stage, Gala Night show and after party
- DJs and drum circles
- Beach play and island tour

--------
* OPEN STAGE ARTISTS (14 TO BE ANNOUNCED)

* GALA NIGHT ARTISTS
1. Aileen Lawlor (USA) - Contact staff/flow wand/poi
2. Shinmasta (KOREA) - Poi
3. PsycuSix.Ψ (MALAYSIA) - Multi-prop
4. Marvin Ong/Master Ong (USA/MALAYSIA) - Poi/clubs
5. Chris Murdoch (CANADA) - Contact juggling/ring manipulation
6. Alvin Lopez (PHILIPPINES) - Contact juggling/mini hoops
7. Ehrlich Marz Ocampo/Firechill (PHILIPPINES) - Flow wand
8. Hanz Pastor (PHILIPPINES) - Buugeng
9. Daniel Darwin (PHILIPPINES) - Hoop
10. Thomas Johansson (SWEDEN) - Poi
11. Melissa Marie Nomadic Flame (USA) - Hoop

* MUSIC (TBC)
1. DJ DBT
2. Adinkra Lumads Djembe Community
3. DJ Christman

--------
* REGISTRATION - www.tinyurl.com/joinpff2015
* PAY FOR YOUR TICKETS - www.tinyurl.com/pff2015tickets
* FESTIVAL SCHEDULE - www.tinyurl.com/joinpff2015

* MANILA ACCOMMODATIONS: MNL Boutique Hostel(www.mnlboutiquehostel.com)
Tags: Props, Flow, Oceania, Festival, Philippines